Grant Series Modular Laboratory Workbench Bench Pro Size 78 H x 48 W x 30 D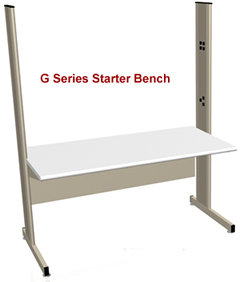 Bench Pro Grant Series Modular Laboratory Workbench is the perfect work surface for all of your laboratory task. Modesty panel included. The powder coat paint finish is corrosion resistant for years of life. This workbench is made of heavy duty aluminum post. Features Chemical resistant phenolic resin top resists burns, scratches, stains, water and oil resistant. Heavy duty aluminum construction. Chemical and corrosion resistant powder coat paint finish. Product Type Workbench. Top Material Plastic. Frame Material Metal. Wood Construction Type No Wood. Wood Species . Finish WhiteGray. Butcher Block Top No. Weight Capacity 2000. Foldable No. Drawers Included No Number of Drawers . Soft Close or Self Close Drawer Glides . Ball Bearing Drawer Glides . Locking Drawer .. Shelves Included No Number of Shelves .. Wheels Included No Removable Wheels . Locking Wheels .. Country of Origin Mexico.Spefications Certifications Yes GSA Approved Yes. CSA Certified . GREENGUARD Certified . ISO 14001 Certified . ISO 9001 Certified .. Commercial OR Residential Certifications Yes ADA Compliant . CPSIA Compliant . CPG Compliant . NSF Certified .. California Proposition 65 Warning Required No. Composite Wood Product CWP Yes CARB Phase II Compliant formaldehyde emissions Yes. TSCA Title VI Compliant formaldehyde emissions Yes..Dimensions Overall Height Top to Bottom Size 30 H x 48 W x 24 D, 30 H x 48 W x 30 D, 30 H x 48 W x 36 D, 30 H x 60 W x 24 D, 30 H x 60 W x 30 D, 30 H x 60 W x 36 D, 30 H x 72 W x 24 D, 30 H x 72 W x 30 D, 30 H x 72 W x 36 D 30. Overall Height Top to Bottom Size 34 H x 48 W x 24 D, 34 H x 48 W x 30 D, 34 H x 48 W x 36 D, 34 H x 60 W x 24 D, 34 H x 60 W x 30 D, 34 H x 60 W x 36 D, 34 H x 72 W x 24 D, 34 H x 72 W x 30 D, 34 H x 72 W x 36 D 34. Overall Height Top to Bottom Size 36 H x 48 W x 24 D, 36 H x 48 W x 30 D, 36 H x 48 W x 36 D, 36 H x 60 W x 24 D, 36 H x 60 W x 30 D, 36 H x 60 W x 36 D, 36 H x 72 W x 24 D, 36 H x 72 W x 30 D, 36 H x 72 W x 36 D 36. Overall Height Top to Bottom Size 46 H x 48 W x 24 D, 46 H x 48 W x 30 D, 46 H x 48 W x 36 D, 46 H x 60 W x 24 D, 46 H x 60 W x 30 D, 46 H x 60 W x 36 D, 46 H x 72 W x 24 D, 46 H x 72 W x 30 D, 46 H x 72 W x 36 D 46. Overall Height Top to Bottom Size 50 H x 48 W x 24 D, 50 H x 48 W x 30 D, 50 H x 48 W x 36 D, 50 H x 60 W x 24 D, 50 H x 60 W x 30 D, 50 H x 60 W x 36 D, 50 H x 72 W x 24 D, 50 H x 72 W x 30 D, 50 H x 72 W x 36 D 50. Overall Height Top to Bottom Size 52 H x 48 W x 24 D, 52 H x 48 W x 30 D, 52 H x 48 W x 36 D, 52 H x 60 W x 24 D, 52 H x 60 W x 30 D, 52 H x 60 W x 36 D, 52 H x 72 W x 24 D, 52 H x 72 W x 30 D, 52 H x 72 W x 36 D 52. Overall Height Top to Bottom Size 60 H x 48 W x 24 D, 60 H x 48 W x 30 D, 60 H x 48 W x 36 D, 60 H x 60 W x 24 D, 60 H x 60 W x 30 D, 60 H x 60 W x 36 D 60. Overall Height Top to Bottom Size 66 H x 48 W x 24 D, 66 H x 48 W x 30 D, 66 H x 48 W x 36 D, 66 H x 60 W x 24 D, 66 H x 60 W x 30 D, 66 H x 60 W x 36 D, 66 H x 72 W x 24 D, 66 H x 72 W x 30 D, 66 H x 72 W x 36 D 66. Overall Height Top to Bottom Size 72 H x 48 W x 24 D, 72 H x 48 W x 30 D, 72 H x 48 W x 36 D, 72 H x 60 W x 24 D, 72 H x 60 W x 30 D, 72 H x 60 W x 36 D, 72 H x 72 W x 24 D, 72 H x 72 W x 30 D, 72 H x Bench Pro Bench Pro Size 78 H x 48 W x 30 D $1399.99
Study Carrels Computer Kiosks SCR CK Wb Product. Phenolic Top Workstation with Shelves.
WB Manufacturing can design build and deliver standard cabinets and lockers modular casework mobile furniture and custom solutions for any environment.
The GES Series Compact Sirocco Fan is made of an injected FRPP mold with standardized central discharge. Compliance including assistance grants. Turn on search history to start remembering your searches. The footrest is mounted low on the leg to allow. Tennsco Electronic Solid Steel Top Modular Workbench with Drawers.
Results 1 of. Youll the Series Modular Laboratory Workbench at Wayfair Great Deals on all Storage Organization products with Free Shipping on most stuff. Youll the Series Modular Laboratory Workbench with Class 100 Cleanroom Top 000 lbs capacity 0 Depth x Width x.
Mobile Lab Workstation Wb Product. Get our best price on a custom BenchPro G Series modular workbench just answer a few. Series Modular Laboratory Add on Workbench Bench Pro Size H x W x. Are designed for a wide range of.
Description VWR modular work benches are designed for a wide range of. Isolator Bench Top Fume Hoods. IAC lab benches and tables are the new work horses of the lab environment not. Wb Product.
The Model DNL cantilever lab bench that gives you the ultimate laboratory workbench. The Model LHD is a four leg bench design built on the Model HD frame but modified to a standard height of. Get creative with Dimension the ultimate modular workstation system for.
Modular design allows for simple field conversion from inset to overlay door and.
Easily add and adjust optional accessories to meet your needs. Description VWR lab benches are ergonomically designed to meet the needs. Lab Furniture Accessories. BenchPro Series Single Sided Workstation Starter Unit.